Gland Styles: Which is Better?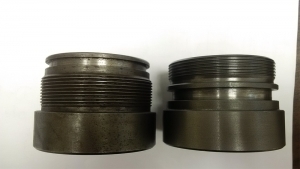 Here we have two styles of glands that each believe their o ring position is better. The version on the left has a traditional location of the sealing against the micro-honed surface of the tube. They argue that the honing surface is better to seal against, the threads have the thickest metal area to be cut from.
The lower version argues that the inner bore may not be concentric with the thread so a separate sealing surface is machined in along with the threads for minimal diametrical clearance difference. They also say that repair is easier as the threads are not exposed to the elements as the seals keep water and dirt out as well as oil in.
Vote for your favourite or comment here!
Give us a call: 1.905.795.7885 or email us: connect@maverickmachine.ca if you have any question regarding hydraulic cylinders, custom made cylinders, hydraulic parts, machined parts, hydraulic cylinder repairs looking forward to hear from you.