Hydraulic Cylinder Repair Service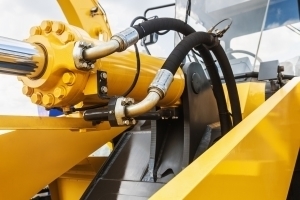 Hydraulic cylinders play a critical role in a wide range of equipment. If and when they fail, they can cause significant revenue loss for companies as equipment and employees await the completion of repair and replacement operations. By partnering with an experienced and knowledgeable repair service provider, you can ensure your hydraulic cylinders are brought back to proper working order quickly, allowing you to avoid extended equipment downtime and, consequently, substantial profit loss.
At Maverick Machine & Hydraulics, we offer hydraulic cylinder repair services for a variety of industrial equipment and vehicles. Our highly trained team carefully disassembles, inspects, evaluates, repairs, reassembles, and tests hydraulic cylinders to return them to working condition. If a failed component is irreparable, we can reverse engineer the part to create an appropriate replacement.
Main Causes for Hydraulic Cylinder Failure
There are many signs a hydraulic cylinder may soon need repair or replacement, such as damaged components (e.g., barrel, piston, or mounting) or leaking hydraulic fluid. However, hydraulic cylinders can also fail without warning. By recognizing and understanding the causes of failure and, if applicable, their warning signs, you can check for them and implement an appropriate solution before failure occurs.
Some of the most common causes of hydraulic cylinder failure are:
Contaminated fluid. The presence of foreign substances in hydraulic fluid can cause damage to the cylinder, either by scratching and scoring the interior surfaces or chemically degrading the internal components.
Physical abuse. Physical abuse, in addition to contaminated fluids, can cause damage to the hydraulic seal, which can affect the component's ability to regulate internal pressures and, consequently, its ability to operate effectively and efficiently.
Side loading. Side loading refers to the application of force perpendicular to the hydraulic cylinder's axis of movement. It can place strain on various components (e.g., rod bearings or piston rods), which can cause damage and, over time, failure.
Extreme pressures/temperatures. Hydraulic cylinders are designed for use at specific internal pressures. Pressure levels that stray from this acceptable range can negatively affect the cylinder's performance. Similarly, the materials used for hydraulic cylinders are chosen for specific temperature ranges. Exposing a cylinder to temperatures above or below this range can cause damage to its components.
---
Our Hydraulic Cylinder Repair Capabilities
Our technicians will disassemble and thoroughly inspect the barrel to record every part of the cylinder. We take pride in being one of the few shops that measures every bit of each hydraulic cylinder rather than reordering a generic kit. This information helps us investigate the root cause of the hydraulic cylinder failure and allows us to repair them back to their original condition. Our experienced staff can provide a report of our findings and recommend specific repairs. If a hydraulic cylinder is irreparable, we can reverse engineer it and build you a new custom-made hydraulic cylinder.
Our Standard Repair Procedure
Our standard repair procedure includes the following steps:
Disassembling the cylinder
Inspecting the barrel
Replacing or honing the barrel as needed
Inspecting, repairing, and replacing the rod as needed
Cleaning all of the parts and replacing all of the seals and packings
Inspecting all of the threaded connections and mounting surfaces
Reassembling the cylinder
Testing the cylinder to 100% rated pressure along the entire stroke
Adjusting the cushions
Covering all external ports before painting
Painting the cylinder with rust inhibitive paint before packing and shipping
Types of Cylinders We Repair
We offer hydraulic cylinder repair services on all brands of loaders, excavators, cranes, snowplows, presses, and dump trucks. The types of cylinders we repair include:
---
Maverick Machine & Hydraulics: Your Expert and Partner for All Hydraulic Cylinder Repair Needs
Hydraulic cylinders are an essential component of many pieces of equipment. As such, ensuring they remain in proper working order is critical. Otherwise, you risk lower processing efficiency and higher profit loss. As hydraulic cylinders experience wear through use over time, which can lead to component degradation and damage that ultimately results in failure, it is important to find a hydraulic cylinder repair company you can trust to bring your hydraulic cylinders back to top condition.
Maverick Machine & Hydraulics is the ideal partner for all hydraulic cylinder repair needs. By choosing us, you benefit from:
Solid Service: A friendly, responsive approach has been a cornerstone of our success in the hydraulic cylinder repair and manufacturing industries.
Unique Numbering: Responsibility often means greater accountability. That is what our individual serial numbers do for our hydraulic cylinder repair and custom-made manufacturing process.
100% Testing: We perform vigorous testing on every custom-made hydraulic cylinder manufacturing service and repair we complete to ensure the components you receive perform to your expectations.
CNC Precision Machining: Our CNC machining is accurate to tight tolerances and checked by trained operators. Whether your parts need milling, turning, live tooling capability, or welding, they're in safe hands at Maverick Machine & Hydraulics.
Full Warranty: Our standard one-year replacement guarantee and optional five-year pro-rated warranty show how much we believe in our hydraulic cylinder repair and custom-made cylinder services.
For additional information about our hydraulic cylinder repair services, contact us today.