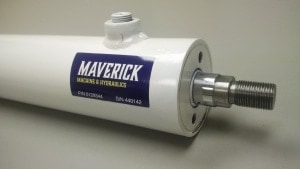 Our custom cylinder program was designed specifically for Original Equipment Manufacturer (OEM) with one simple philosophy: always keep your cylinders in stock.  Maverick strive to provide the highest quality Custom made cylinders, hydraulic cylinders, Stainless Steel Cylinders & exceptional service. We ensure you have the hydraulic cylinders you need to keep production moving. Our friendly and flexible approach starts with offering engineering services if required. Then we build a prototype and ensure you have verified the performance before we move to full production. Finally, we do a timeline and needs analysis to create a cylinder as per our customers requirements.
As a supplier to many Original Equipment Manufacturer OEMS, we are confident in our ability to offer almost any style of cylinder built to your exact specifications right here in North America. This gives you the assurance of being no more than 2-3 weeks from having a custom cylinder exactly as what you need. We know that many other cylinder suppliers simply cannot offer that. We design, prototype & manufacture double and single acting cylinders.
Furthermore, our customer service team runs a vendor managed inventory program that includes off shore sourcing and works closely with your forecasting and operations teams to anticipate and supply cylinders on time every time.
Maverick Machine & Hydraulics is known for Custom made Cylinder manufacturing and hydraulic cylinders repair as per your requirements. If you are an Original Equipment Manufacturer (OEM), we have the solution of custom cylinders to match your application. Maverick Custom cylinders team has the experience and skill to address all your cylinder and hydraulic needs. Contact Maverick Machine & Hydraulics for Custom made Cylinders and unique & original hydraulic cylinder repairs.
---
Hydraulic Cushioning in a Cylinder – New Method & Benefits: