Hydraulic cylinders are essential mechanical components found in virtually every industry. Although there are many distinct varieties of hydraulic cylinders, all operate on the same basic principle: A piston drives a rod through pressurized fluid to generate unidirectional force. Hydraulic cylinders are versatile, affordable, and available in a range of configurations to meet specific industry needs.
Maverick Machine & Hydraulics
offers premium hydraulic cylinder sales and repair services.  We carry various types of hydraulic cylinders and also provide various
Custom Made Cylinders
,
Stainless Steel Hydraulic Cylinders
as well as
Hydraulic Cylinders Repair
services.
Hydraulic Cylinder Types
Hydraulic cylinders come in several main categories, with the most popular being tie-rod, welded, and telescopic cylinders. Other specialty products are also available depending on the application.
Tie Rod Hydraulic Cylinder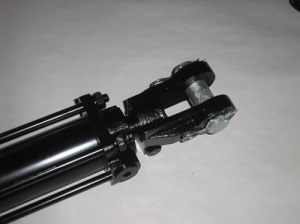 Tie-rod cylinders are some of the most versatile and affordable, containing two end caps joined to the cylinder with threaded steel rods. This construction method makes maintenance and inspection simple as the cylinder can easily be disassembled. Maverick carries a standard range of tie rod cylinders along with custom options, which allow you to specify custom parameters for size and configuration.
Specs Sheet
Welded Hydraulic Cylinders
Welded cylinders are popular for their compact design and are often used in mobile applications or in applications with significant space constraints. Unlike tie-rod cylinders, welded cylinders have the end caps welded directly onto the barrel, resulting in a durable, uncomplicated and economical design. The trade-off is that these cylinders are more difficult to disassemble for maintenance.
Maverick offers several ends on our standard range of welded cylinders: pin-eye, Clevis, threaded and through-hole are some. We consider welded cylinders to be one of our primary areas of expertise, and as such, we offer all necessary accessories and repair services.
Welded Hydraulic Cylinder – Clevis Model
Welded Hydraulic Cylinder – Welded Brushing Cylinder
Stainless Steel Cylinders

Stainless steel cylinders are an excellent choice for food and beverage applications. Stainless steel is known to resist corrosion from water or cleaning chemicals, so stainless steel cylinders won't degrade when subjected to repeated sanitation processes. Standard cylinders are made of milder steel that wears prematurely under food and beverage conditions, so the investment in stainless steel options is worthwhile. The sewage-treatment and marine industries are other examples where industry-specific conditions merit the use of durable stainless steel. Maverick manufactures customs stainless steel cylinders to exact specifications for clients in these and other related industries.
Click here for More Info
Hydraulic Cylinders: All You Need to Know
How Does a Hydraulic Cylinder Work?
Regardless of the specific variety, hydraulic cylinders are all powered by a piston that moves pressurized (hydraulic) fluid. A pump forces the fluid into the cylinder, and a piston drives the rod back and forth, generating force that can be used to lift or push heavy loads.
Hydraulic Cylinder Applications
Hydraulic cylinders can be found in almost any industry that handles heavy loads, including manufacturing, agriculture, construction, and even medicine. Specific applications include the following:
Excavators
Balers
Cranes
Hydraulic presses
Packing machines
Loaders
Hydraulic cylinders offer a reliable and efficient force-generation mechanism for these and similar applications.
Some industries have specific constraints that influence the choice of a hydraulic cylinder. Food and beverage applications, for instance, must frequently sanitize all equipment, including the lifting and packing machines that might be powered by hydraulic cylinders. For these clients, we offer specialized stainless steel options that can withstand frequent sanitation.
Selecting the Right Hydraulic Cylinder
Hydraulic cylinders differ in size, design, and material, and your application informs the optimal choices for these variables. Based on the environmental factors, desired force, and size constraints, the experts at Maverick can help you determine the best choice from our catalog. We can also design a custom solution if your application has unique constraints.
Reliable and Long-Lasting Hydraulic Cylinders
At Maverick, we pride ourselves on the diversity of our services, and we strive to meet the needs of clients across industries. Our stock hydraulic cylinders are built to last and subjected to rigorous quality testing, ensuring reliable performance over their entire working lives. Our custom design and repair services extend these offerings to support clients with highly individual needs.
Maverick partners directly with OEMs to build hydraulic cylinders of any style. We work with our custom design clients from the very beginning, offering engineering services when necessary before building prototypes and developing a mutually acceptable timeframe. With Maverick, you can receive completely custom cylinders in a matter of weeks, which our clients find invaluable for inventory management purposes.
In addition to custom design and manufacturing, we also offer comprehensive hydraulic cylinder repair services for any style of hydraulic cylinder. We begin by disassembling and inspecting the cylinder, then offer a plan that encompasses either the necessary repairs or a complete rebuild. In the latter case, if a cylinder is irreparable, we draw on thorough documentation of the original cylinder and our extensive reverse engineering capabilities to build a new custom cylinder of the exact same design.
Once assembled, we perform thorough testing of all repairs and rebuilds, including tests at 100% of the rated pressure over the full stroke.
Maverick strives to accommodate U.S. and Canadian OEMs across a broad range of industries. Our hydraulic cylinders are found in systems ranging from hoists to compacting equipment to dump trucks, servicing a broad range of applications throughout manufacturing, construction, waste management, food and beverage, and other industries. Our repair team supports a similarly broad set of industry clients. If it contains a hydraulic cylinder, we can usually fix or rebuild it.
Why Maverick Machine & Hydraulics?
The team at Maverick Machine & Hydraulics is professional, experienced, and highly responsive. Our comprehensive services include thorough documentation, testing, and warranties, and we stand behind the quality of our products. With Maverick, you get:
A Unique Numbering System: All of our repaired or custom-designed cylinders have individual serial numbers for accountability.
Thorough Testing: No cylinder leaves our facility without undergoing rigorous quality testing to ensure that it performs well at full capacity.
CNC Precision Capabilities: Our CNC machining team ensures that all custom components are machined to tight tolerances. We offer milling, turning, live tooling, and welding services to facilitate our manufacturing and repair services.
Full Warranty: All of our products come with a one-year replacement guarantee, which can be extended to a five-year, pro-rated warranty. We are confident in our products and we'll replace them if anything isn't right.
Whether you're investing in new stainless steel cylinders for hygienic purposes or troubleshooting a faulty dump truck cylinder, Maverick Machine & Hydraulics can help. To learn more about our fast, fair, and flexible services, contact us today.