Hydraulic Products & Cylinders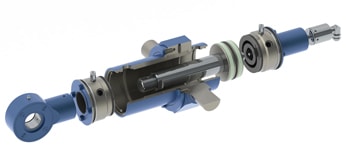 Maverick Machine is all about hydraulic products and cylinders whether custom-made, repaired, or imported. We are experts in our field, we know what you actually want to hear. This is how we like to look after our customers no matter what their size or their needs are.
We carry all parts and products that an original equipment manufacturer needs to keep his production rolling. Connect with Maverick today for unbranded hydraulic products and services.
We bring you the whole package
At Maverick Machine, we make it easy to make your equipment work, and work with your allocated budget.
Do you deal with standard and custom products?
Our range of hydraulic cylinder products is designed to suit the diverse application needs of our clients in different industries. These are available in tie rod or welded cylinder styles. If you need a specific strength and size, we have our pre-engineered components available to adapt to almost any need. Through continued investment in design and manufacturing, as well as our industry experience, we are able to consistently develop quality products that are both effective and efficient.
How long can your products be expected to last?
Our hydraulic cylinders and manifolds are manufactured from the best materials in the industry to help ensure smooth running of your operations with minimal downtime. Many of our customers enjoy our products for longer times compared to the industry average if they provide scheduled maintenance of their equipment. Maverick Machine offers a 1-year warranty for all our products.
How can customers maximize the life of hydraulic cylinders?
For our hydraulic cylinders, we recommend that you maintain the oil level and remember to filter the oil to keep it clean after first-time use. Part of keeping the oil clean involves installing high-efficiency filters and changing them according to your schedule. Generally, regularly checking your hydraulic cylinders will help to determine when repairs are necessary. For instance, you should check out for signs of rod or cylinder corrosion, pitting, and uneven wear, as these could indicate excess moisture in the fluid. If not addressed in time, this will drastically reduce the longevity of your cylinder.
Do you provide repair services and parts for your hydraulic cylinders?
At Maverick Machine we offer hydraulic cylinder repair services for any cylinder with inhouse machining and honing capabilities, a good stock of seals, and quick turnaround with chrome services to minimize your downtime.
How soon can the hydraulic cylinder be repaired?
The time taken for repair depends on the extent of damage. Typically, most repairs are turned around in two to five days. If this is part of a critical process for you, we recommend having extra hydraulic cylinders that you rotate regularly to minimize downtime. This way, there's ample time to inspect, disassemble, and repair the cylinder that has been removed without affecting your processes. In addition, you will be in a better position to determine the condition of connected accessories and replace them promptly.
Buy from the source
Through our continued investment in design and manufacturing, combined with our varied application, engineering experience, and outstanding workmanship, Maverick Machine is able to consistently develop standard and custom hydraulic cylinders and manifolds for our diverse clients including OEM customers. As a result, our reputation continues to grow across North America as the brand that is guaranteed to satisfy your industrial equipment requirements.
Please contact our office to discuss more about our hydraulic cylinders and manifolds or to find the best product for your needs.