For specialized applications that require pressures up to 5,000 psi, then a high pressure hydraulic cylinder may be best suited for your unique needs. Featuring robust, heavy-duty designs, our high pressure cylinders offer reliable performance and durability in various extreme applications.
Maverick Machine & Hydraulics is committed to offering powerful, reliable high-pressure hydraulic cylinders. We serve clients throughout the forestry and mining industries with the components they need in their harsh work environments.
High-Pressure Hydraulic Cylinders
Heavy-duty and high-pressure hydraulic cylinders are built to withstand the demands of industrial applications. At Maverick Machine & Hydraulics, our high-pressure hydraulic cylinders are backed by an expert team with decades' worth of collective knowledge. They are available in a range of diameters and lengths to suit your needs.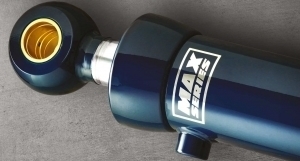 Heavy Duty Cylinders From Maverick Machine – MAX Series
We supply our MAX series to customers in a range of industries. Some of the most popular applications for these components include tunnel boring and earthmoving projects or other work necessary for forestry industries.
Our MAX Series is engineered to last. We use high-quality components, and proven manufacturing processes to create products that our clients can rely on.
What are the benefits of the MAX Series of high pressure cylinders?
Built to Last:
Extra-heavy wall tubing protects from dents and scrapes while withstanding high pressures. We know operators overload machines and the MAX ram is ready for that.
Numerous shaft options:
Precision-ground is hard chrome plated for maximum seal life and corrosion resistance. Induction hardened chrome bars are also available, which provides increased strength where needed, and resistance to damage from falling rocks and trees.
How do other MAXRETAIN – External Retainer Cap extend the product life?
The MAXRETAIN cap is a unique, hi-tensile steel cap specifically engineered to be a part of the MAX series. It is the product of hours of work and testing.
Thanks to its shape, the MAXRETAIN cap boasts superior strength. It can perform in even the toughest work environments. The seal also features a locking ring to prevent contamination and unwinding. With this cap, it's easier for clients to achieve long component life spans with simple servicing.
What is the MAXSEAL – Unique Sealing Configuration? 
The MAXSEAL is a unique sealing configuration that we offer our customers as a unique solution to common sealing problems.
What are the MAXRANGE Sizing Options?
6.0″ MAX

6″ bore, 3/4″ wall

x 3.5″ shaft

x 3″ shaft

5.0″ MAX

5″ bore, 5/8″ wall

x 2.5″ shaft

x 3″ shaft

4.5″ MAX

5″ bore, 1/2″ wall

x 2.5″ shaft

4.0″ MAX

4″ bore, 1/2″ wall

x 2″ shaft

x 2.5″shaft

3.5″ MAX

5″ bore, 3/8″ wall

x 1.75″ shaft

x 2″ shaft

3.0″ MAX

3″ bore, 3/8″ wall

x 1.5″ shaft

x 1.75″ shaft

x 2″ shaft

2.5″ MAX

5″ bore, 5/16″ wall

x 1.25″ shaft

x 1.5″ shaft

x 1.75″ shaft
High-pressure cylinder supply and repair services 
Specially designed for continuous heavy duty application under high pressure, our high pressure cylinders offer great efficiency to help you meet your bottom line. We not only manufacture, but also repair high pressure hydraulic cylinders with thorough testing and full warranty to satisfy your unique application requirements and minimize downtime. 
Please contact our office to discuss more about our high-pressure hydraulic cylinders or to find the best product for your needs
Why Choose Maverick Machine & Hydraulics?
We prioritize what matters most for our clients. When you order from us, you'll receive a service that is fast, fair, and flexible.
Fast: We're committed to meeting deadlines. We know that time is your most valuable commodity—it's ours too.
Fair: We love to feel good about the value we offer to our customers, and we seek to provide it at every step of the order process. We offer rush deliveries, re-engineering, and budgeting services designed to provide an even playing field for our clients.
Flexible: Whether it's split shipments, varying payment options, or something else, our team is always flexible and prepared to assist clients with their needs.
Contact us today to find out more about our extensive capabilities or if you need a high-pressure hydraulic cylinder for your next project.