Hydraulic Cylinder Manufacturing in Mississauga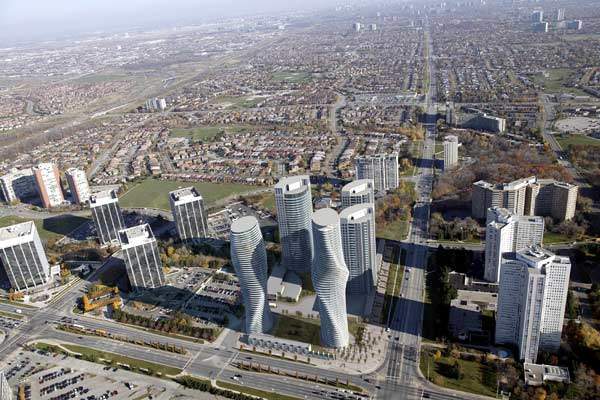 As the second largest city in the Greater Toronto Area (GTA), the third largest in Ontario, and the sixth in Canada, Mississauga has gone through a period of rapid economic and population growth following its incorporation in 1974.
Maverick Machine is proud to be one of the businesses that are powering one of the largest regional economies in the country by providing various industries with quality and reliable hydraulic cylinders and repair services, as well as custom replacement parts.
Outlook of Mississauga
With a population of over 720,000, Mississauga has successfully developed over recent decades, and continues to expand its economic contribution to the Greater Toronto economy. Many international and Fortune 500 companies have found a base in the city, creating many job opportunities that complement the local small and medium sized businesses.
The successful economic development of the City of Mississauga has transformed it into a significant contributor to the regional economy that produces 20 percent of the country's GDP and 45 percent of Ontario's GDP. In fact, Mississauga earned its 17th consecutive 'AAA' credit rating as recognized by the Standard & Poor's Rating Service in 2020, which acts as a testimonial to the City's diversified economy and outstanding liquidity levels and low debt burden.
The City of Mississauga is now considered the core of advanced manufacturing, owing to aerospace and automotive production and pharmaceuticals, as well as the well-established Information and Communications Technologies (ICT) sector that is critical for the development of the GTA as a key industry cluster in North America. Together with the growing life sciences sector, these key industries have allowed Mississauga to become a thriving employment centre in the region, providing enough jobs for its population and even exporting some jobs in various professional industries such as finance, insurance, and healthcare.
Mississauga is not only a great city for business, but also for living. It is home to the largest suburban population in Anglo-America, with nearly half of the residents speaking a different language from French or English. It has been recognized as one of the safest cities in Canada. This can be credited to a number of aspects, including the city's thriving economy, healthy growth, reliable infrastructure, good real estate and property sizes, and its proximity to Toronto.
Hydraulic cylinders and repair services for ground service equipment
Mississauga is part of one of the fastest growing major city economies in the world, partly due to the availability of a well-connected international airport. We realize the importance of better connections to link the airport and the planned Transit Hub through to Port Credit and the Downtown area, so the city can fully capitalize on opportunities provided by the international gateway.
If you need hydraulic cylinders for OEM purposes, then Maverick Machine can provide them according to your needs in the aviation sector. Our custom hydraulic cylinder program was designed specifically for OEM with one simple philosophy: always in stock. We ensure you have the hydraulic cylinders you need to keep production moving. Our friendly and flexible approach starts with offering engineering services if required and follows through with budget and timeline based needs analysis.
We manufacture off-shore or in one of our North American facilities to meet your requirements. Our customer service team runs a vendor managed inventory program and works closely with your forecasting and operations teams to anticipate and supply cylinders on time every time. Your supply chain for custom hydraulic cylinders and accessories is safe. Simply choose your size and delivery instructions, and we'll handle the rest promptly.
Hydraulic cylinder repair services for the manufacturing sector
Although lower cost countries continue to exert pressure on global competitors, Mississauga has maintained a strong base of manufacturing businesses that sustain a considerable number of local jobs. The city is home to many companies that trade internationally, embrace technology, leverage their knowledge to stay competitive, and focus on providing cleaner-tech solutions.
As Mississauga nurtures its existing base and moves to advance its competitive advantage among a new generation of advanced manufacturing businesses, Maverick Machine is partnering with businesses in the sector as the leading supplier and service shop for hydraulic cylinders and their components.
Hydraulic cylinder repair services for the logistics sector
Generally, the movement and storage of goods has traditionally been considered a lower value sector that consumes substantial land in patterns of lower-density employment. But the logistics industry in Mississauga is rapidly changing by adopting the use of digital technology to trace, manage, and move goods. Businesses in transportation, distribution & delivery, and warehousing & storage are also facing new opportunities to embrace more efficient and lower carbon modes of transport powered by electricity.
As the city focuses on establishing itself as a strong location for smart logistics to stay competitive, it's just as important to ensure that the equipment used to move the goods around are as effective and efficient as possible. Maverick Machine can supply the sector with different types of quality hydraulic cylinders, as well as prompt repair services and custom replacement components whenever you need them.
Maverick Machine & Hydraulics Cylinder Supply, Parts & Repairs in Mississauga
From aerospace to automotive to the food & beverage sectors in Mississauga, these industries require effective and efficient hydraulic cylinders to maximize their productivity and stay competitive in the increasingly global economy.
The team at Maverick Machine & Hydraulics fully understands how costly premature cylinder failures and downtime can be to your bottom line. By partnering with us for your hydraulic cylinder needs, you benefit from our:
Friendly and responsive customer service
Precision cylinder machining services
Unique numbering system that facilitates accountability and traceability
100% testing capabilities for manufactured and repaired components
Full warranty programs, including a standard one-year replacement guarantee and optional five-year, pro-rated warranty
Maverick Machine can be the reliable partner you need for all your industrial hydraulic cylinder needs, whether you need telescoping hydraulic cylinders for your ground service equipment, stainless steel hydraulic cylinders for compliance with regulations in the food and beverage sector, or custom-made hydraulic parts to replace damaged components.
For additional information about our hydraulic cylinder offerings, contact our office in Mississauga today.