Maverick is Growing!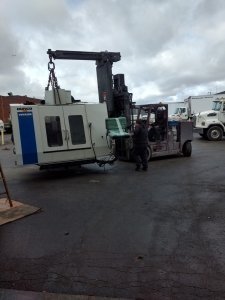 After 2 straight years of 60% growth Maverick needed more machine capacity to keep up with custom cylinder orders and machined parts requirements of our clients. We recently purchased a Hurco 5-Axis mill, and we're excited about the new opportunities opening up as a result.  We explored both new and used options before purchasing this machine used.  It matched our requirements for 4-sided machining to eliminate handling costs and time. We have the knowledge and expertise on our team to program and operate this specific brand of CNC machine which mitigated the training and set-up costs.
We're working to improve our manufacturing efficiency so we used the opportunity of the riggers being on-site to shift two of our other machines into better positions to make the operations more efficient. As you can see from the attached video and photo, moving it into place was a project in itself! The machine weighs 15,000 pounds and the forklift operator must move painstakingly slow to keep everything steady. We were impressed with the teamwork they used to make the installation smooth and simple.